Webelos I

Webelos I Den Leader
Position Open
Email:

Assistant Den Leader
Position Open
Email: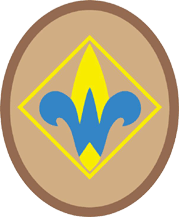 New Webelos Logo
Webelos Meaning: We'll Be Loyal Scouts
Webelos Goal: Prepare a Cub Scout to be a Boy Scout
Reminder: Annual Scout Dues for the year will be collect
$105 retuning scout $115 for new Scouts
Webelos is a 20 month program for 4th and 5th grade boys to prepare
to join a Boy Scout troop while learning outdoors skills and participating in 20 different activity badges. A well-run group of Webelos is a gradual change from being an 'adult-run' den to being a 'boy-run' patrol ready to fit right into an adventurous scouting troop. This migration requires the parents and den leaders to give the scouts more and more control, decision-making power, and responsibility as they progress in skills, abilities, and maturity. A good program also provides the scouts with many opportunities to grow in the Webelos Virtues.
Our Webelos den has been very exciting to watch as the boys change from being squirrely 3rd graders mostly intent on running around and playing to being a patrol that can recognize a goal, the requirements to fulfill the goal, and the ambition to accomplish the goal. The trail to the destination
is as rewarding as the destination, but they learn to plan the work and work the plan and enjoy the process. Of course, we did not turn everything over to the boys at the First Webelos Meeting – we gradually give them more tasks to do, such as taking attendance, checking uniforms, leading flag ceremonies, making announcements, preparing snacks, planning Webelos activity badge outings, organizing campouts, and leading entire meetings.
Who is eligible
Forth & Fifth grade boys (or 10 years old) – 11 year old boys can join Boy Scouts
How often do we meet
The den meetings are about 1 hour every other week. The schedule is determined by Den Leaders and typically meet at Our Lady of Las Vegas School picnic tables, classroom or the gym.
The Pack meetings (All Dens) meet every 6-7 for weeks at Our Lady of Las Vegas School picnic tables or the gym.
How much does it cost
New Cub Scout application fee $10
Yearly Cub Scouting Dues for the 2010-2011 Year $105– includes a 1 year subscription to Boy's Life Magazine
New Cub Scout Leaders, Assistant Leaders, Committee Members $15 Registration fee per year
When do we start meeting
Den Meetings start in September and go until May when they move to Webelos II
What does each boy need – Click here to Download the Webelos Checklist (.pdf)
1. Cub Scout Bear Book – we recommend the spiral bound Webelos Handbooks, they cost a little more but lay flat opposed to the standard binded ones.
2 .Class A Uniform- this includes the following
Tan Webelos shirt, American Flag and Boy Scouts of America are all ready stitched on. We recommend getting a short sleeve shirt.
Additional Required Patches on Cub Scout shirt
– Pack Number "99"
– Las Vegas Area Council Patch
– World Crest Logo
– Den Number or Patrol Patch (see Den Leader)
Please do not buy any other patches than the ones listed above, Boys will earn patches throughout the year and will be presented at Pack and Den Meetings.
3. Cub Scout Web Belt – Blue with Brass Cub Scout Logo or Olive Boy Scout Belt (the Olive Belt is a wider belt and will not hold belt loops)
4. Official Boy Scout olive trousers or shorts.
5. Webelos Scout Neckerchief- Plaid neckerchief, embroidered with the Webelos logo.
6. Webelos Scout Neckerchief Slide – you may want to purchase a few of these, they tend to fall off, use doubled up rubber bands or hair band under tie slide to secure it to the neckerchief.
7. Cub Scouts blue shoulder loops
8. Webelos Colors
(Optional) Olive socks (with red tops) are worn with the tan/olive uniform.
(Optional) Boy Scout olive trousers/shorts
(Optional) Webelos cap
(Optional) Red Patch Vest for all non-uniform patches. Boy like to wear these to show off the different patches earned over the years, also called a "Brag Vest".
Shoes. Neat and clean
Webelos HandBook

Red Unit Numerals

new(Green) Unit Numerals

Den Number or

Patrol Patch (see Den Leader)

Plaid neckerchief, embroidered with the Webelos logo.

Optional Webelos Buckle is an option

New Style -Cub Scout Web Belt with Buckle

Blue web belt has a brass buckle highlighted with the Cub Scout logo. Includes a belt clip. Part of the Official Cub Scout Uniform for a Tiger Cub, Wolf Cub Scout or Bear Cub Scout.

The 1″-wide belt comes in two sizes. SM/M (to 28″) & M/LG (29″ – 38″)